"WORLD" Magazine Subscription
Submitted by Courtney on Sat, 09/30/2006 - 22:43.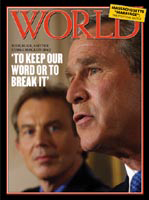 Weekly news magazine that combines conservative news reporting with Christian editorials. 48 issues per year. Cover Price: $189.60
WORLD tries to be salt, not sugar.

We like to report good news but we don't make it sticky-sweet. We also report bad news because Christ's grace becomes most meaningful when we're aware of sin. We want to be tough-minded but warmhearted.

We are dependent on God and independent of any political faction or interest group. We don't let advertisers influence news content. We don't print glorified press releases. We like George W. Bush but often criticize his administration. We criticize corruption, even when (sometimes especially when) it erupts among Christians. We avoid sourcery, where unnamed sources spin the news their way.

We look for provocative and evocative news stories that are the result of pavement-pounding rather than thumb-sucking. We don't want anyone to read WORLD out of a sense of duty. We like family feuds over who gets to read a new issue first. We want our readers to enjoy the world God has made, full as it is of nooks and crannies and weirdness.

We stand for factual accuracy and biblical objectivity, trying to see the world as best we can the way the Bible depicts it. Journalistic humility for us means trying to give God's perspective. We distinguish between issues on which the Bible is clear and those on which it isn't. We also distinguish between journalism and propaganda: We're not willing to lie because someone thinks it will help God's cause.

We believe that our purpose is to glorify God and enjoy Him forever—and forever begins right now. We like sex, within marriage. We're not amoral hedonists, but we're not stoic moralists either. We like the vines and fig trees God gives us. We read novels, go to movies, and listen to classical music but also jazz. We prefer ice cream to cotton candy. We cover movies, yoga, artists and travel; we aren't Christians with rules against anything that's fun because God made fun, too.

We cover all aspects of the news: national, international, and cultural; politics and business; medicine, science, technology, and sports. We have feisty columns and religious reflections. We even have cartoons and a page with funny or strange stories of the week. But what matters the most is this: We believe in a God who tells the truth and wants us to do the same.
Price: $49.95